THE THING: ARTBOOK PORTLAND, OREGON HOLLYWOOD THEATER BUNDLE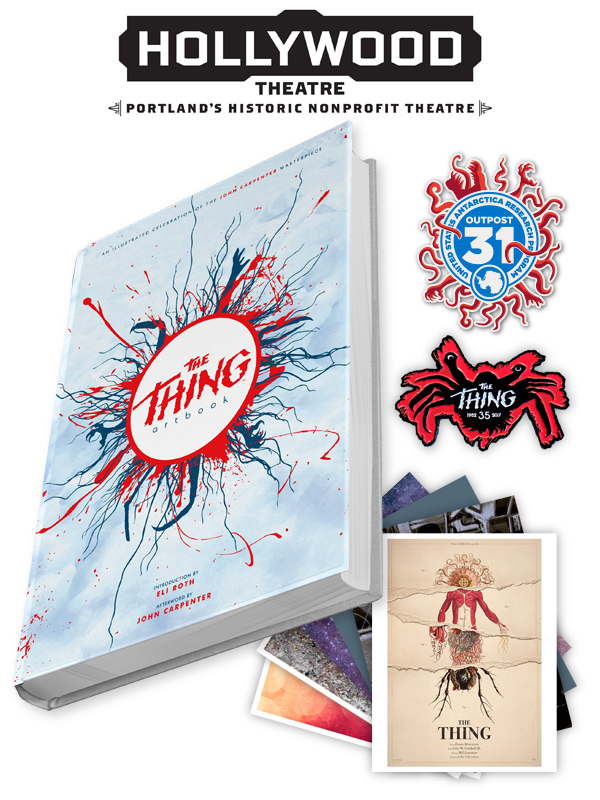 Printed in Blood will be joining the Hollywood Theater in Portland, OR in showing a rare 70mm print of JOHN CARPENTER'S THE THING! This will be the Pacific NW debut of The Thing: Artbook.
Join us immediately after the 7:00pm showing on FRIDAY, OCT. 13th for a group artist book signing event (appromimately 9pm to 11pm). Featured artists will be on hand to sign your copy of the book. We'll have copies of The Thing: Artbook, collector pins and prints available to purchase at all screenings (Friday, Saturday and Sunday at 7:00pm) while supplies last. Go HERE for tickets and more information on the Hollywood Theatre. Can't make the movie or tickets are sold out? Fear not! Doors will open to the public for FRIDAY's signing, right after the film is over.
Confirmed artists so far include: Tony Parker, Erik Wilson, Arnel Baluyot, Joshua Green, Dan Brereton, Dane Ault, Nickolas Gucker, Mohammad Jilani and John J. Hill. Watch this space for more details!
We're offering a special pre-order bundle, only available at these 3 showings and the signing, which Includes 1 copy of The Thing: Artbook, 1 Outpost 31 enamel collector pin, 1 The Thing 35th Anniversary enamel collector pin and 1 set of 6 prints of art not included in the book. These items (and more) will be available individually for sale as well and do not require pre-ordering.
***NOT AVAILABLE TO SHIP*** This bundle must be picked up at one of the The Thing screenings on Oct. 13, 14 & 15 at the Hollywood Theatre in Portland, OR**
About the book:
AN ILLUSTRATED CELEBRATION OF THE JOHN CARPENTER MASTERPIECE!
Celebrating the 35th anniversary of John Carpenter's sci-fi/horror classic film "The Thing", this 400-page first volume hardcover of Printed In Blood's ARTBOOK series features over 375 brand-new pieces of artwork created specifically for this collection. Bringing together artists from the worlds of comics, fine art, animation and illustration. Over 350 artists from all over the world have contributed art for this comprehensive collection.
Also included in the book, an all-new introduction by horror director/actor/producer Eli Roth and an afterword by the Master of Horror himself, John Carpenter.
PRE-ORDERS HAVE ENDED! We'll have all of these items for sale individually and lots more at all The Thing showings this weekend. SEE YOU AT THE HOLLYWOOD THEATRE!!!!